Miss Eleanor
Miss Eleanor wears a First Bustle Era Janet Arnold dress.
"Miss Eleanor is a "well-known high society witch" – brilliant, glamorous, vivacious, queen bee, social climber, and absolutely ruthless. Her specialism is charms and her familiar is a blackbird."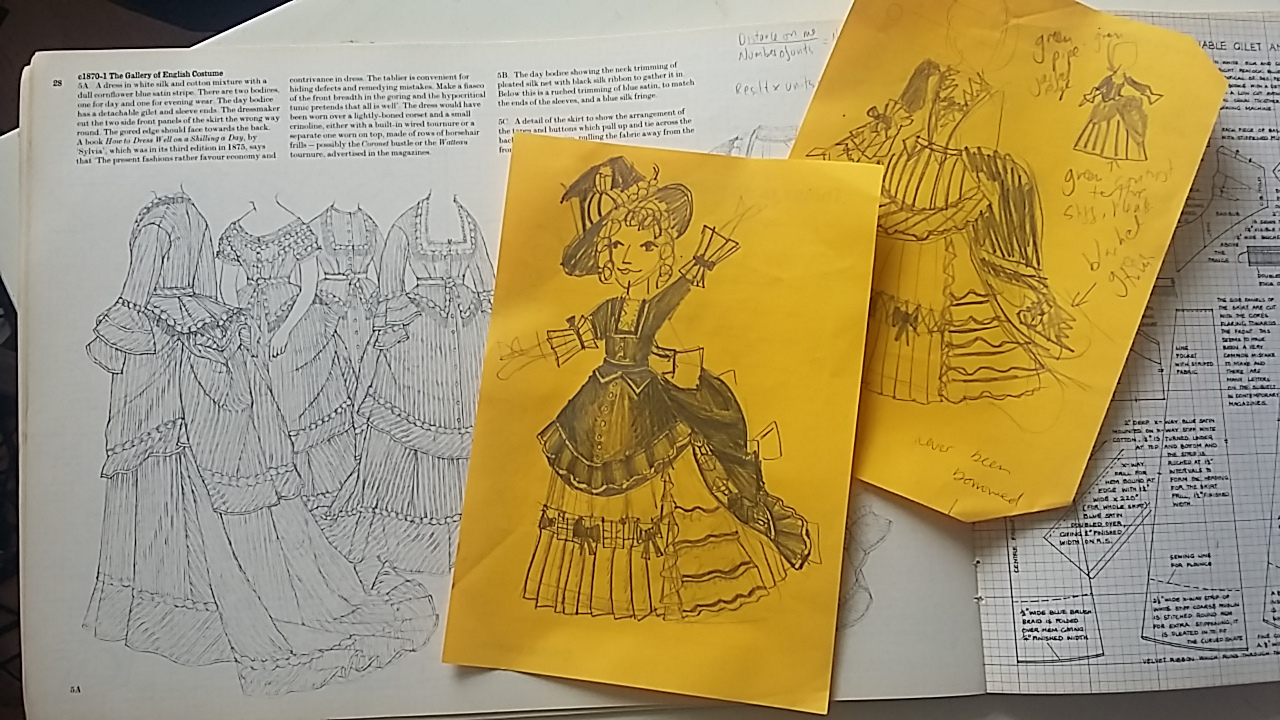 Design sketch based on a Janet Arnold dress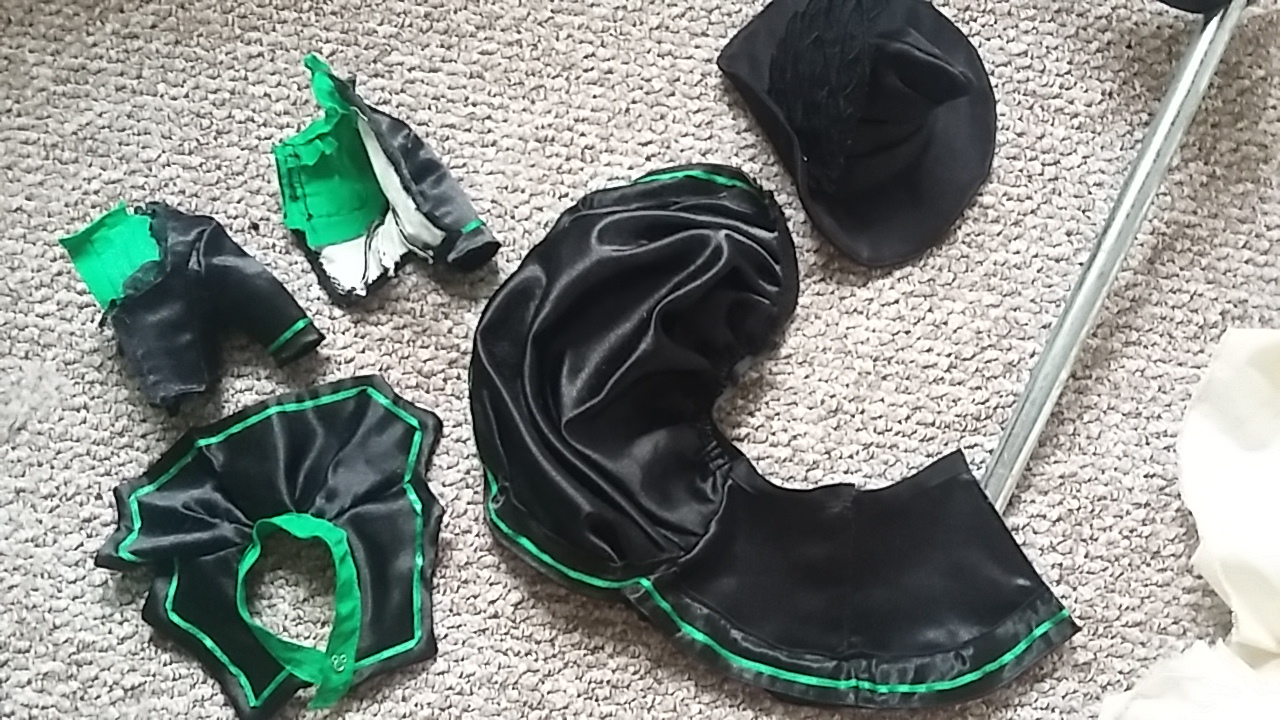 All the bodice pieces - split up differently than in the original dress, for ease of getting on and off a doll.


The bodice comes in half, joined with a tiny slither of velcro: Miss E can't wiggle the way a real human can. There's an inner layer of calico that the outer fabrics are backed onto, and subtle shaping with the iron to give it a sense of body.
Self-drafted hat! Several layers of calico quilt-stitched together for stiffness, plus outer fabric and shaping with the iron. The hat holds its shape through ironwork & needle sculpting:

Finished! Belt buckle is a bit of bra strap, painted; the wing is machine-embroidered. Next steps: an Edwardian grand dame is not complete without an outrageous hat and accessories, which will be completed in shades of marooon and brassy gold – feathers, and sinister flowers.
Skills

Draping & Fit

A doll body is not a human body: the pattern was adapted to her shape, and redesigned to allow it to be put on and removed from a solid body

Style adaptation

Pattern was based on Janet Arnold's 1880 dress, but adapted to better suit Miss Eleanor's scale, and to incorporate design features from other dresses I liked

Construction

I self-drafted the hat from scratch. The jacket is backed with interfacing, using techniques learnt from the Victorian Tailor on a smaller scale. Hand-sewing is used throughout for detail. I discovered the art of steaming the skirt ruffle for a dramatic effect, after the first merely gathered ruffle looked limp

Colour Blocking

I studied fashion plates from the era, plus modern books on design, to balance the colours and highlight style lines with ruffles and contrast ribbons

Revealing Character

The idea of "high society witches" amused me: an Austen-style period drama about marriage, property, and social graces, but they're all witches. I made some character sketches. I combined the witches hat with Victorian extravagant millinery, and chose rich/dangerous colours to express her vibrant personality – snake green, scarlet, brassy green

Practice makes Perfect

I enjoyed working on doll-scale – a low-cost way of experimenting with styles, fit and techniques, to prepare for the challenges of creating a full-scale dress. I have learnt that Vionette habitually designed at smaller scales, and am budgeting for a more "human-like" doll to further my practice at this.